Equilibrium Cranes (Bulk Material Handling)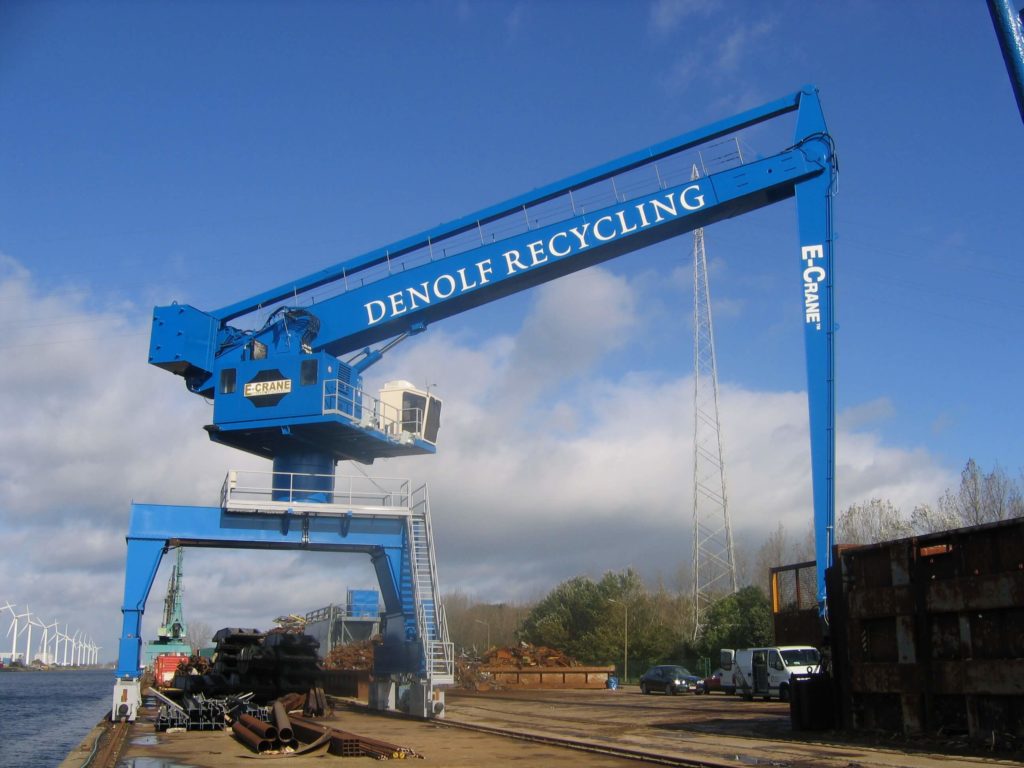 The Equilibrium Crane (E-Crane) is a truly revolutionary, multi-functional crane for material handling applications. The E-Crane features an unprecedented reach of up to 125 feet (38.1 meters), load lifting capacities to 27.5 tons (24.9 mt), push down ability equal to 50% of the rated capacity, and significantly reduced power consumption and maintenance costs.
It has been specially designed for bulk material handling, storage, and process feeding at ports, harbors, scrap processing facilities, and any installation which requires high production handling of bulk materials. The E-Crane is especially well suited for heavy-duty production cycles and difficult working conditions. The E-Crane is truly a "state of the art" machine designed to meet the material handling needs of the 21st century.
The E-Crane design is based on an ingenious patented parallelogram style boom system which provides a mechanical connection between the moving counterweight and the front arm. This unique system assures that the crane remains within 20% of a true balanced condition throughout its entire working range. Compared to more conventional cranes which require as much as 80% of their available energy just to move itself, the E-Crane is undoubtedly more energy efficient, resulting in significant savings in maintenance and general operating costs.
The ability of the E-Crane to remain in a near balanced condition translates to reduced machine stress, more lifting capacity, more stability, and more mounting options. These include a fixed pedestal, a free standing pedestal, gantry, rail and crawler. With lifting capacities and reaches extending well beyond anything previously achieved with more conventional hydraulic cranes, new opportunities are opened up to those who require fast, and efficient material handling.
While the basic design of the E-Crane inherently keeps maintenance costs low, further thought was given to keep the components simple an easy to maintain. The power/control module is located in an easily accessible, walk-in compartment, making the use of ladders or scaffolding unnecessary. Low pressure hydraulics, oversized bearings, and an automatic lubrication system assure a long working life.
The E-Crane utilizes only top quality components supplied by leading manufacturers to assure reliability and world wide parts and service support.
The E-Crane offers many unique and new opportunities for today's progressive material handler.