BAAM – Bulk Automatic Anchor Machine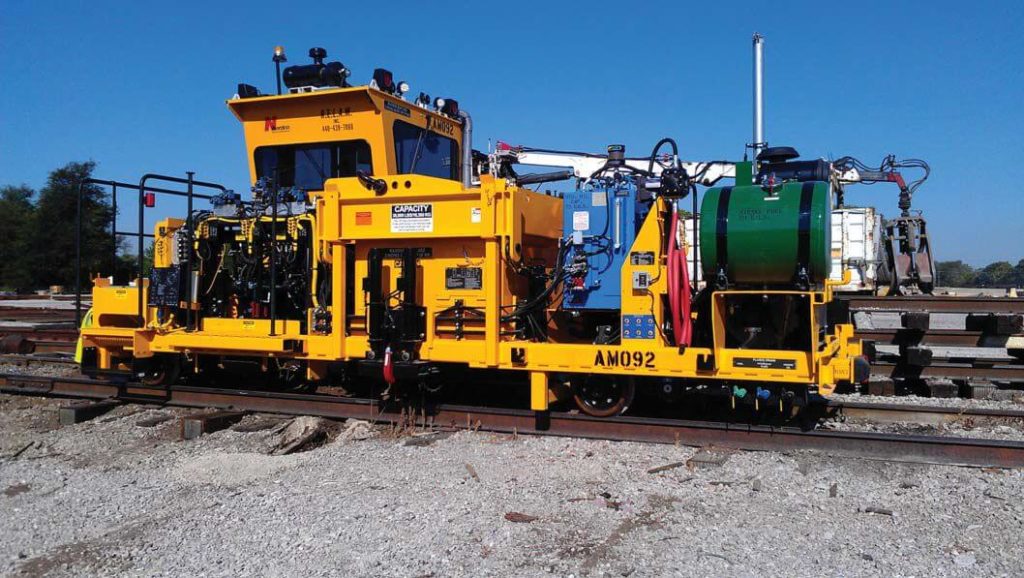 Key Features
The BAAM – Bulk Automatic Anchor Machine includes the following key features:
Enclosed single-operator, climate-controlled cab; walkway with egress from both sides of machine
Integrated push-style bulk loader
Integrated, positive locking, rail-to-rail turntable
Operator-controlled hydraulic workhead lockups
John Deere Tier III diesel engine
Four-wheel, dual-axle hydraulic motor, chain & sprocket propulsion system
24 VDC, circuit breaker-protected, electrical system
PLC-controlled electrical control system,
Spring-applied, hydraulic-released brakes, with Cobra brake shoes
Back-up alarm, switchable for travel direction
Multiple Anchor Types – One Machine
Simply swap the anchor holders to handle most common anchor types. If you use Fair® anchors on your rail, an  optional assembly is available to handle this anchor style.
Direct Anchor Tray Feed
The operator-controlled anchor feed system moves anchors directly and accurately from the trays into the anchor holders. The holders then fl ip down, box the tie, and position the anchors on the rail base in one smooth operation. Both anchors are then fully snapped onto the rail.
Load Once – Work All Day
The integrated bulk anchor bin holds enough anchors to last for a full day's work. Easily load the bin with the optional boom and winch, lifting up to 300 lbs of anchors at a time.  In addition, the bulk bin includes a load vibrator to help keep anchors from jamming together, as well as an operator controlled ram to push anchors up to the operator's work area.
Adjust for different work situations
Easily make adjustments to the work head to handle different rail heights and rail base widths.
Lower cost of ownership
Since you only need one machine to handle multiple anchor types, you save on initial acquisition costs, maintenance costs, and even storage costs – lowering your overall total cost of ownership.
In addition, the BAAM uses many of the same components as other Nordco machines, so you can stock fewer maintenance parts on your parts wagon.