SP2R Spike Puller – Two Rail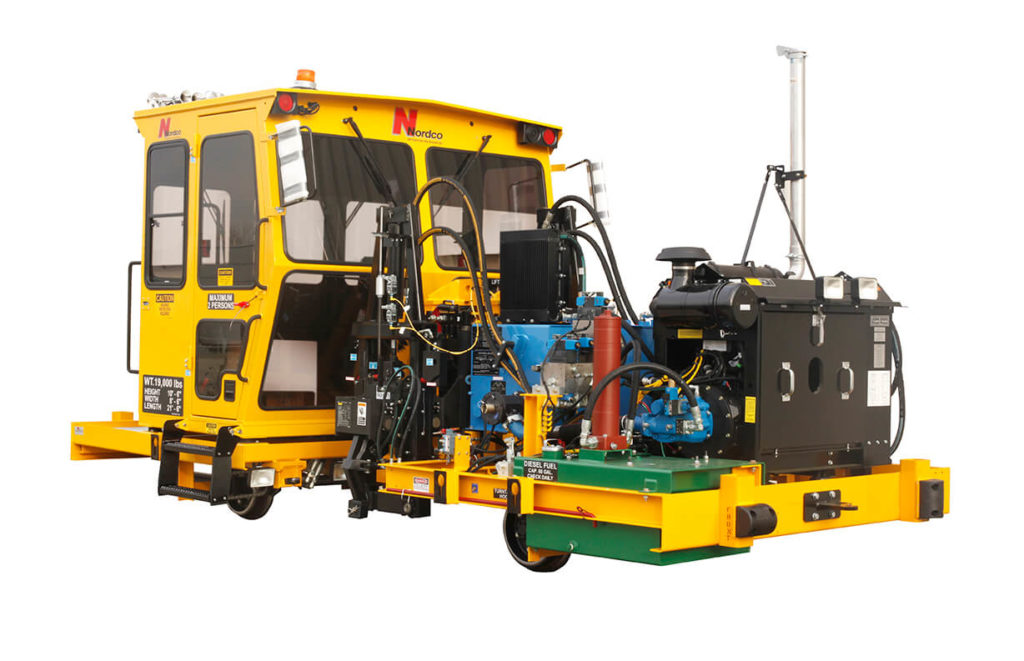 Key Features
The SP2R – Spike Puller Two Rail includes the following key features:
Enclosed dual-operator, climate-controlled cab; optional extended cab (capacity = 7) available
A-frame pulling assembly over each rail
Claw-style pulling tools to handle line spikes and anchor spikes; optional Lewis bolt and hairpin spike work heads available
Cab-controlled hydraulic work head locks
John Deere Tier III diesel engine; optional Cummins engine available
Four-wheel, dual-axle, chain-driven propulsion system
24 VDC, circuit breaker-protected, electrical system
Spring-applied, hydraulic-released brakes, with Cobra brake shoes and deadman switch
Integrated, positive locking, rail-to-rail turntable
Joystick controls
Adjust to different working conditions
Simply adjust the limit switches to set the claw height for different rail heights.
Quickly change the width of the claw opening at any time using a simple dial setting or use the automatic work head centering option.
Easily position inner and outer claws to align for different spike patterns.
Use the integrated turntable to easily reverse direction on the track.
Handle different spike types
Easily swap out the work heads in about one hour- in the field or the shop – to handle different spike types. Optional specialized work head assemblies for Lewis bolts and hairpin spikes are available.
Use fewer personnel carriers
The optional extended cab allows up to five extra crew members (total capacity = 7) to ride in the cab.  Fewer personnel carriers mean less equipment to maintain and less space needed on sidings for overnight storage.
Keep production levels high while maximizing spike reuse
Pull two spikes simultaneously from each side of the rail, for a total of four spikes at one time. Since claw fingers grasp spikes under the head while the work head assembly pulls straight up, spikes stay straight and re-usable.
Lower cost of ownership
Since the SP2R uses many of the same components as other Nordco machines, you can stock fewer maintenance parts on your parts wagon.