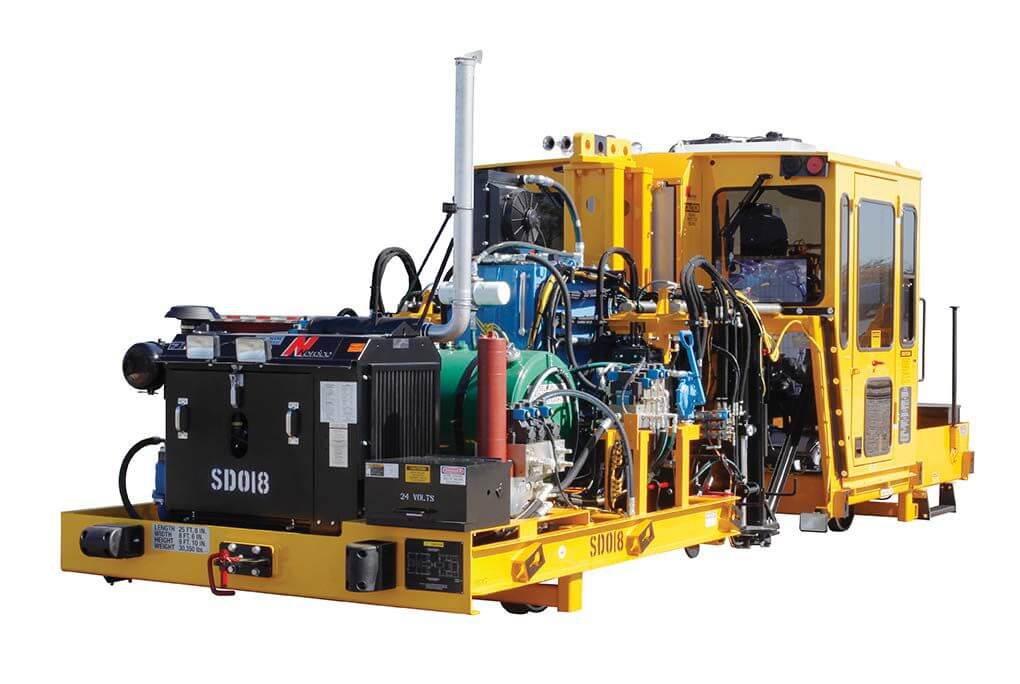 Key Features
The CX Hammer – Production Spike Driver includes the following:
Dual-operator, enclosed climate-controlled cab; seating for:

Two spike gun operators and one feed tray operator (without auto spike feeder option)
Two spike gun operators (with auto spike feeder option)

Hydraulic-driven, high-impact spiking hammers with reciprocating driving action; optional Lewis Bolt workhead available
Remote electric spike pattern adjustment
Tie nippers with BTI hooks
Digital variable roller gager
John Deere Tier III diesel engine
Positive-locking turntable, with steel base
Four-wheel, dual-axle, chain-driven propulsion system
Spring-applied, hydraulic-released brakes; Cobra brake shoes
24 VDC (dual 12 VDC), circuit-breaker-protected, electrical system
Single, pressure-compensated, hydraulic pump
Cold weather options available, including engine heater
Spike storage options:

Boom and winch for loading spike kegs on rear deck
Bulk bin, either with or without Cluster Buster option (bulk bin and Cluster Buster required with auto spike feeder option)

Joystick controls
High-impact spiking hammers
The CX Hammer- Production Spike Driver uses a hammer-style reciprocating driving action that:
Drives spikes in with 2,200 lbs of spiking down force, ensuring strong and stable connections
Bends less spikes, requiring fewer manual pulls and re-drives while reducing spike waste
Fast and powerful
The CX Hammer can simultaneously drive up to two spikes per rail, for a total of four per tie, while the hydraulically operated spotting system allows fast alignment of the guns with the tie plate holes. The weight of the machine, as well as the load transfer inherent in the machine's design, stabilizes the machine on the track, allowing both sides of the tie to be worked on at the same time. The large capacity spike trays hold up to 50 spikes each, allowing continuous spiking operations.
An auto spike feeder option provides continuous spike feeding action from the bulk bin directly to the driving guns, eliminating the need for a feed tray operator.
Secure tie plates during spiking
The tie nipper assembly grasps and pulls the ties up and closer to the rail during the spiking process, allowing the tie plate to be as firmly attached to the tie as possible.
Adjust to different gaging conditions
The optional gaging attachment allows the operators to:
Easily push rail into the correct position to set the track gauge
Adjust for different rail heights
Set the speed of the gaging process
Control the gager settings to correctly calculate for new or worn rail